It is now the season to go out
into our yards and communities to look for and remove gypsy moths and larvae.
This article will explain a little more about the gypsy moths, why they are a
such problem in our community, and  how
to trap and get rid of them.
Please note:
this article only pertains to trees on private property. If you see gypsy
moths in Centre Wellington, please report to
parks@centrewellington.ca.
Do not treat public trees.

What is
it?
The Gypsy Moth is a
destructive hardwood tree pest. The damage caused by gypsy moth larvae
devastates trees in regions across North America. The spread of gypsy moths
is naturally slow, but accidental transportation of the eggs has accelerated
its regional spread.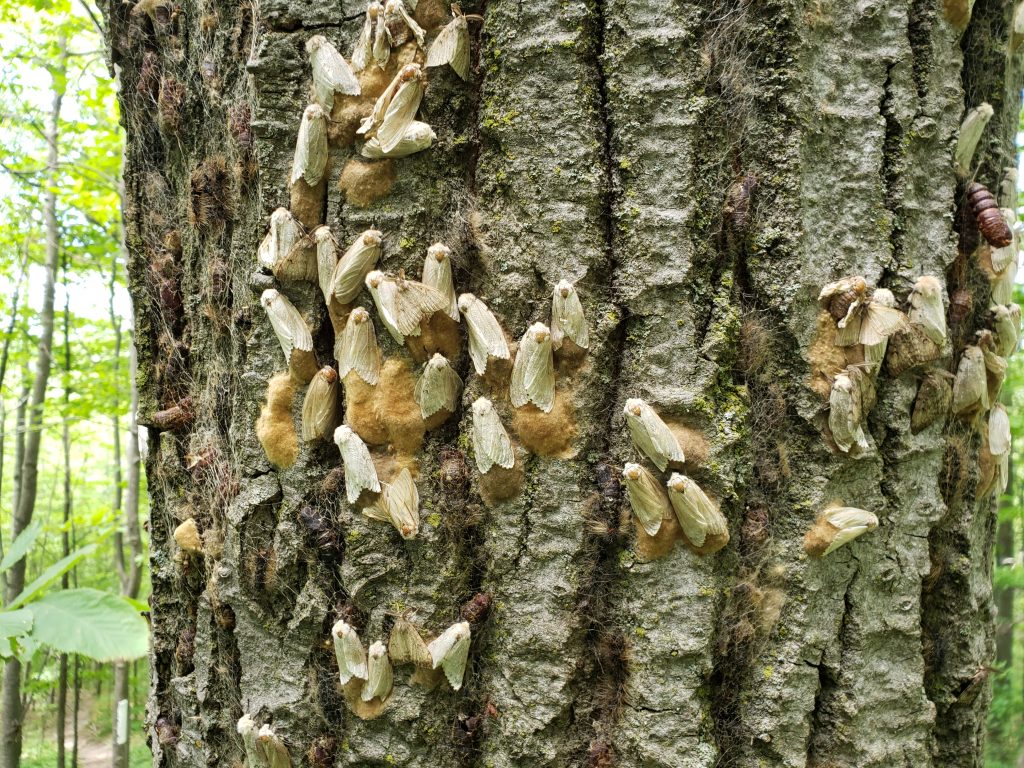 Why are they
a problem?
Defoliation is the
primary concern of a gypsy moth infestation.One larva is capable of eating
one square metre of tree canopy. Although treescan recover from total
defoliation, trees that are repeatedly defoliated maybecome weakened, have
their growth stunted, and are much more susceptible todisease and insects.
Following a large gypsy moth infestation, these weakened treesgradually die,
resulting in a large reduction of our tree populations.
What
can we do?
Use local
firewood, don't transport
it.
Inspect your outdoor transportable
items (ie:trailer, boat, tent, etc.) for any stage of gypsy moth life before
moving or vacationingin another region.
Keep your trees
healthy, so they are better ableto ward off attacks. Water trees when dry and
protect their root zones fromdamage.
Remove picnic
tables, swing sets and lawnfurniture from around the
bases of trees –
these provide shelters forthe gypsy moth.
Where to find
them.
Moth and larvae can be
found:
On the underside of branches
Under
lifted tree bark
On tree trunks
On
fences
On or in firewood
On or under
outdoor furniture
On swing sets
On or
under boats
On or under
trailers
Under the eaves of
buildings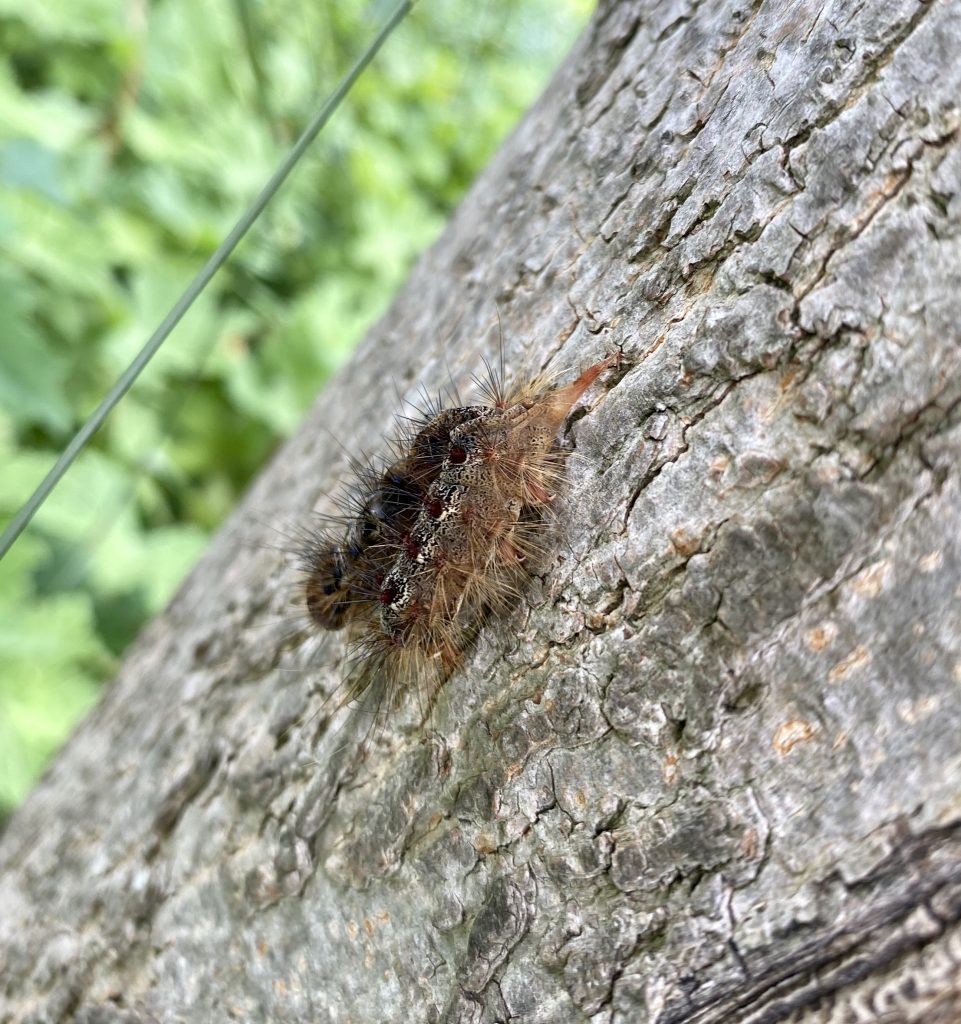 Gypsy Moth Traps and
Removal
Removal
Caterpillars
and pupae can be handpicked and crushed. Thelong hairs on the caterpillar can
cause skin irritation or allergic reactionsin some people, so make sure to
wear gloves as a precaution. When an egg massis found, it should be scraped
off with a knife and dropped in a bucket filledwith hot water and soap,
household bleach or ammonia.
Burlap
Traps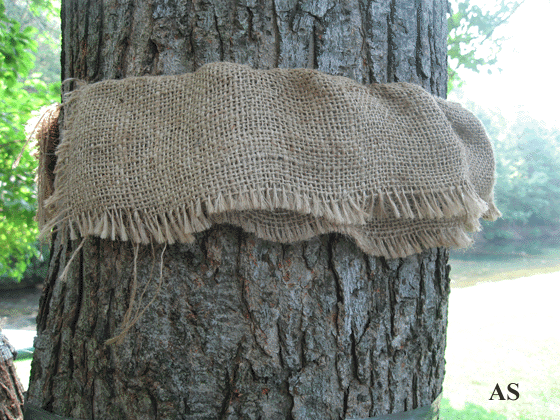 Wrap a 45cm (17
inch) wide strip of burlap around the trunk of the tree at chest height. Tie
a string around the centre of the burlap and old the upper portion down to
form a skirt (with the string acting as a belt). The caterpillars will crawl
between the folds to escape the sun. Later, return and lift the burlap. Pick
off the caterpillars and dispose of them in a container of soapy water or
diluted bleach.
You can install burlap strips at the end
of April until mid-August.
Pheromone
Traps
Store-bought traps can be
hung in trees to encourage the captureof male moths, preventing the growth of
the gypsy moth population. Traps withthe specific pheromone can be bought
online.
Natural
Insecticide/Oil *These products are
only encouraged as a last resort*
Dormant
oil with lime sulphur can be applied to trees inlate winter, and will smother
eggs before they hatch.
Bacillus thuringiensis
kurstaki (BTK) is a selective biological insecticide that controls
caterpillars. Other insects, mammals, birds and fish are not
affected.
**Please consult an expert before using
any pesticide or chemical – these products are not always universal.

Further
resources
Ontario.ca Gypsy
Moth Information
City
of Hamilton Gypsy Moth Information