Tree Trust is a made-in-Centre Wellington program supporting legacy trees growing in communities in Southern Ontario.
Other communities were excited to see what we developed and wanted to get on board, so we have set up a new site just for Tree Trust. Many thanks to Pearl Street Communications for their invaluable support in making this happen.
Please visit TreeTrust.ca to learn more about how you can support arboriculture care for your community's legacy trees in need.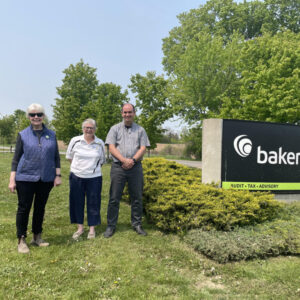 The Rotary Club of Fergus-Elora awarded a grant to Neighbourwoods to cover the cost of pruning a number of adolescent trees growing at Baker Tilly in Elora.  The work was done by Tree Trust approved Arborists of Baum Tree Care. Neighbourwoods planted these trees in May of 2013 and are excited to mark their 10th anniversary with this […]
Thank you to the two organizations who helped us launch Tree Trust
TreeTrust.ca is grateful to the clever folks at Pearl Street Communications for their support of our program. All our great Tree Trust messaging, branding and creative is thanks to their generous support and belief in working with the communities they serve. You can learn more about Pearl Street, their commitment to the BCorp movement and more of their change-making work at pearlstreet.ca.
We would also like to thank the Jack Kimmel Fund of the Canadian Tree Trust for supporting this innovative pilot project. The Jack Kimmel International Grant Program, championed by the Canadian TREE Fund, honours the late Jack Kimmel who was the former Director of Parks for the City of Toronto. He is remembered for his contribution of 46 years of leadership to the ISA and its Ontario chapter. Jack Kimmel grants provide much needed funding to arboriculture and urban forestry researchers all over the world.