Currently, community engagement around Climate Change isn't
working. In the spring of 2017, the ECEE will be hosting a Summit: Rebooting
Climate Change using a Toolkit of messages and stories
Generated by an innovative,
multi-discipline Think Tank being held in Elora in November.
The think Tank  which will produce the
content for the Summit. The thesis is that the current engagement around
Climate Change isn't working (for many, many reasons). The Elora
Environment Centre of which I am a co-founder, operating like Canada's
Rocky Mountain Institute, has been innovating and delivering environmental
solutions in energy (both residential and institutional, water and trees) and
even helped shape the home labelling program which Ottawa ran – ecoEnergy
and Energuide for Houses. We also trained most of the teams across Canada and
internationally, as well as delivering solutions. Eventually, partly being so
dependent on governments, we decided that what we were doing wasn't enough
and so decide to put significant energy into an initiative that will
seriously reboot the climate change
dialogue.
We have hired a researcher to further research the status quo
and plan to host the first think tank in November of this year. The output
aims to be a toolkit to empower a movement for climate change where people
are at the centre – up to now, the people have been largely peripheral in
the discussion.
The format will be a variant on typical
think tanks, by adding another layer. The layers
are:
 The experts
– who provide the content – tracks or areas of expertise will be
transportation design, policy, behaviour economics (choice architectures for
climate action), communities, etc. – we expect 5-7 experts in total and are
finalizing the topic theme areas
A panel of creatives –
who will act as "listeners" to the dialogue with the experts and some
select attendees and will "package" this into the deliverable –
specifically this team will have:
A branding person –
we have an award winning creative director
A storyteller
– we have a former CBC journalist who is kickass and has been a
speechwriter
A Behavioural Economist (overlap from
previous layer) who will ensure we package into proper choice
architectures
Design Thinking Expert – who will work on
the end customer design part of the
package
Our newest volunteer program is
about to get underway. The volunteers have been trained by arborist Chris
Morrison this past week and are ready to hit the street of Fergus and Elora
and prune some trees!
Many of you will be familiar with
our Tree Inventory program, but this year we decided to turn things up a
notch and introduce a pilot project – which has only been organized once
before in Thunder Bay – Citizen Pruners.
The goal of
Citizen Pruners is to educate a group of volunteers on how to properly prune
and maintain a tree. Over the years, NeighbourWoods has planted many trees in
our community, but tree care does not stop there. It is extremely important
to prune young trees – before small problems grow into bigger problems; and
want our trees to last as long as possible in our urban environment. So, that
means pruning is a necessity!
Our group of volunteers spent
two nights last week learning about tree anatomy and proper pruning technique
with arborist Chris Morrison; and with one more field-training night, the eve
of pruning is upon us!
So, throughout the months of June
and July, a team of 20 volunteers and 4 arborists will be going around Fergus
and Elora, wearing orange t-shirts and pruning the young trees – which will
help support their healthy growth in the future.
Make sure
to stay tuned for more news about our Citizen Pruners Team!
Centre Wellington now has a
Public Forest Policy which is a comprehensive document that outlines
standards for tree planting and maintenance on municipal and private
property.
If you want to learn more about this legislation
you can read the document, published January 1st of this year, to access the
document click here
Korea is a mysterious country.
Once one of the poorest countries in the 1960s has achieved an economic
miracle, now chasing Canada as the 11th largest
economy. Among some uplifting stories that I heard from my parents, my
favourite is the Gold Collection movement that saved the country out of the
Asian economic crisis in 1997. My mother donated her wedding ring and golden
charms – a common gift for the one-year celebration of the baby's birth
– to the government while my father took a salary cut to help his company
to stay competitive in the exports scene. I would not have had the privilege
to grow up in Canada without the personal sacrifice that my parents
generational made for the country.
Our nature is also on
the brink of collapse, but we have not discovered the way to convince people
to share such burden. Dumping more scientific facts and jargons have only
frustrated people while the doom-and-gloom scenarios have turned people away
from the conversation. Now, the climate change is called with various
nicknames such as a hoax, cult, religion or conspiracy. Expressing love for
the environment is for the hippies. You could easily avoid the unwanted conversation
with the magic word called the environment.
What would be
the solution to our pressing issues against the climate change? Could
optimistic messages work since negative messages have been ineffective?
Don't we turn ourselves too optimistic stories because we are surrounded by
negative news all the time? What about financial incentive because money
matters to all of us? How about using marketing techniques and social media?
Social marketing has been very effective in reducing alcohol consumption and
eliminating drug use. What about the community-level grassroots approach?
Farmers market had a decade of explosive growths. To my surprise, all of
these approaches have been experimented in the realm of climate change and
proven to be rather unsuccessful.
It seems like we are
running out of options. Then, what could be our next move? Nobody knows the
clear answer for this question, but we could certainly learn something from
the Gold Collection Movement. Neither the government nor organization was
able to save the country. It was the power of ordinary people who were
willing to make the sacrifice and share the burden that helped save the
nation from the verge of bankruptcy. Perhaps, we are waiting for the simple
nudge to start the environmental miracle.
Maybe this is the decade you join
Neighbourwoods!  Annual membership is
just $20 and demonstrates  your support
for our urban forest. 
Join at the next Tree Talk or email Rob Guthrie
(rwfromcw@gmail.com)
This document offers interesting
tables comparing various species for 
their value storing carbon, storm water  and energy benefits of
urban  trees in Columbus Ohio. Thank
you to Ian Rankine for sending it our way.
Neighbourwoods Winter Tree Talk:
MCC: Reforesting for Hope and Change in Haiti
On January
21st, about 40 enthusiastic community members gathered to hear Fred Redekop
give a fascinating overview of a long-running project by the Mennonite
Central Committee to reforest the hardest-hit areas in Haiti, to provide
local people with affordable food, cooking fuel, and building materials, as
well as income from fruit and lumber sales. In addition, the reforestation
project improves soil and reduces erosion from wind and water, reducing
vulnerability to, and allowing quicker recovery from, natural disasters like
hurricanes and droughts.
Fred's talk included some
background on some of the reasons that led to Haiti's becoming so
drastically deforested, including extreme weather but also political and
economic pressures both internal and external to Haiti. This generated
comments and questions among the listeners, and we were fortunate to have
relevant insights shared by participants with first-hand experience in Haiti.
A strong point of the presentation was that MCC works directly with local
people and partners, to ensure the aid provided is appropriate to the
people's needs, and is sustainable by them over the long term. MCC has
established local tree nurseries, and provides education, training, and
support on sustainable farming practices. The trees are selected
specifically for the climate and conditions, and are fast-growing. The
project has been underway since 1983; in the past five years alone, over 2
million trees have been planted, of which approximately 400,000 are fruit
trees.
The presentation gave us much food for thought, and
provided a clear example of how forest conservation is critical to the
well-being of people and environments.
Fred Redekop was a
pastor in the Mennonite Church for 30 years.  At present he is the
Church and Community Associate for Mennonite Central Committee; he is also a
councillor for the Township of Woolwich. We were delighted that he was able
to join us for this special evening.
Neighbourwoods thanks
our 2018-19 Tree Talk Sponsor, the Elora-Salem Horticultural Society, for
their support.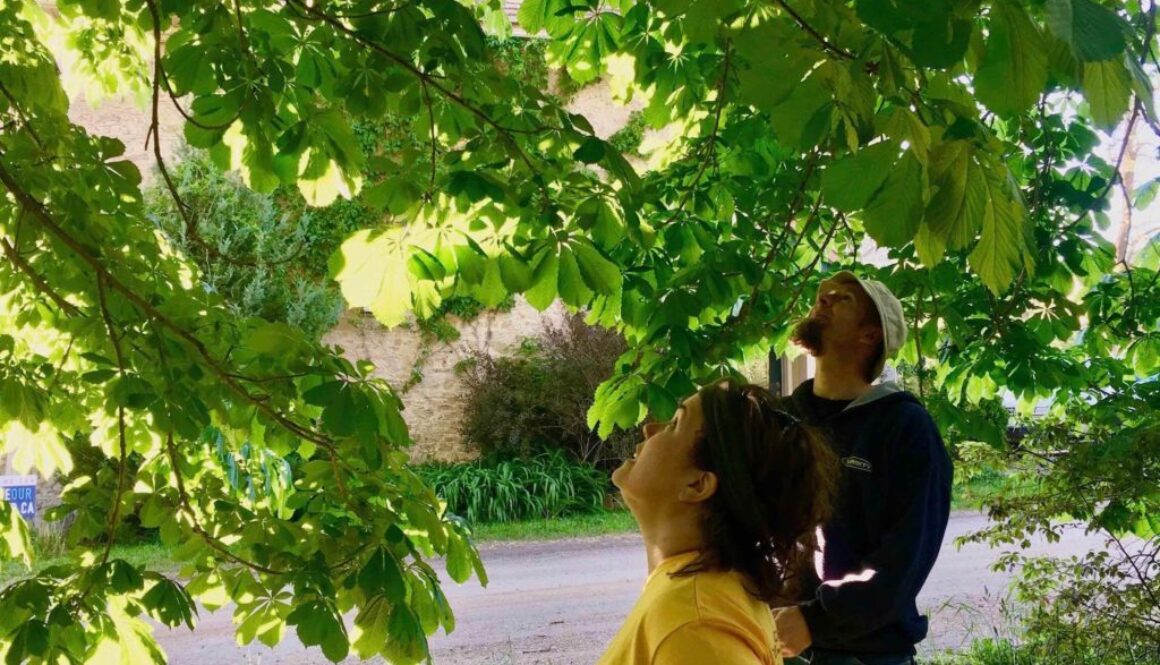 Summer is finally upon us in
Centre Wellington, and for the tenth consecutive year Neighbourwoods
volunteers and summer students will be conducting tree inventory on
residential streets in Salem. Neighbourwoods identifies, measures and
assesses the health of our boulevard, park, front yard, and side yard trees.
To date, volunteers have collected detailed data on more than 11,000 trees in
our community, helping to contribute to the grand total of 100,000 trees
inventoried across Ontario.
Be sure to keep an eye out for
our volunteers wearing bright yellow Neighbourwoods t-shirts, and if you have
any questions email us at neighbourwoods@eloraenvironmentcentre.ca.
Neighbourwoods 2019 Spring Tree
Talk: "raresites: Land Conservation in the 21st
Century"
On March 26, our guest speaker Tom Woodcock gave
us an in-depth look into the 'what, where, when, why, and how' of the
rare Charitable Research
Reserve.
What is
rare?
The Reserve is an area of over 900 acres, on the
Grand River between Kitchener and Cambridge. Its mandate is to preserve and
steward ecologically significant land in Waterloo and Wellington Counties. A
sampling of the 24 different habitats under protection include old-growth
Carolinian forest; floodplains; meadow and prairie; bird and turtle breeding
grounds; and stops along bird migration routes.
Rare's
conservation activities comprise three
areas:
Conservation: including tree planting,
management of invasive species, and trail
maintenance
Scientific research: a living laboratory that
hosts environmental research projects and
monitoring
Education: public events, environmental
education programs, volunteer opportunities, and recreation such as hiking
trails, to enable the public to learn about and value their natural
surroundings.
Rare is a
non-profit organization that depends on volunteers and is funded mainly by
donations, and some funding from the region for specific projects.
Why
does rare do what it does?
We are all familiar with the
threats to land and forests from an increasing human population: consumption
of living space, food, water, and resources; climate change; loss and
degradation of habitat; and pollution.
From one
perspective, 'undeveloped' land can appear to be inactive, inert, and of
no value until a commercial developer comes along to build something on it.
From a more accurate perspective, natural landscapes actively provide a huge
variety of 'ecological services', including water filtration, flood and
erosion control, removal of air pollutants, recycling of nutrients and
renewal of soil, pollination, absorption of greenhouse gases, and support for
the biodiversity that makes this all possible. These 'services' of course
benefit not just humans, but all other species on which we and the earth's
ecosystem depend.
To get a sense of how valuable these
services are, ask yourself for example: how do I get clean water? Ecoservices
are 'free', but they require the space and time to do their jobs. If
ecoservices disappear, replacing them comes at a cost. Consider for example
the costs of building a water treatment plant, paying for flood insurance or
damage, healthcare costs due to air and water pollution, or the need for more
and more fertilizers and pesticides to compensate for diminishing soil
quality.
The message is that we are depleting the earth's
natural ecoservices at an unsustainable rate – we are using more than the
environment can provide. 'Half Earth' is a concept proposed by Harvard
biologist E.O. Wilson, which states that we need to set aside and protect one
half of the earth's natural habitats in order to maintain the biodiversity
that is essential for the earth's ecoservices to be
sustainable.
What are some
solutions?
The answer to the question 'why conserve
land?' became clear. We need to achieve a balance between usage and
preservation of natural resources. Rare supports this goal
by:
Stewarding land that is already under
protection, in perpetuity
Reconnecting fragmented
landscapes so that habitats are not disrupted and species have increased
chances of survival
Acquiring more lands for
preservation, through purchase or donation. For example, a current project is
underway to build a conservation corridor along the Eramosa River, that would
extend from Eden Mills through Rockwood, Guelph, and the Eramosa Valley. This
project has the potential to almost double the area of land under protection
by rare.
Underpinning all of these efforts is
the need to engage and educate the public as to the value of natural
landscapes, not only for their ecoservices but for the enjoyment and
well-being they provide.
In case all of these problems seem
too large to resolve, we can remind ourselves of Tom's decription of
ecological activity as: 'little actions or processes happening an
unimaginable number of times'.  With
that in mind, the small efforts of each of us can potentially add up to a
large turnaround in the ways we use and preserve our natural
landscapes.
For more reading:
https://raresites.org/
https://www.half-earthproject.org/
Neighbourwoods
thanks our 2018-19 Tree Talk Sponsor, the Elora-Salem Horticultural
Society,
for their support.