Why aren't there more trees in the Sycamore Gap?
The tragic felling of the tree is making land managers reflect on how this barren landscape should look in future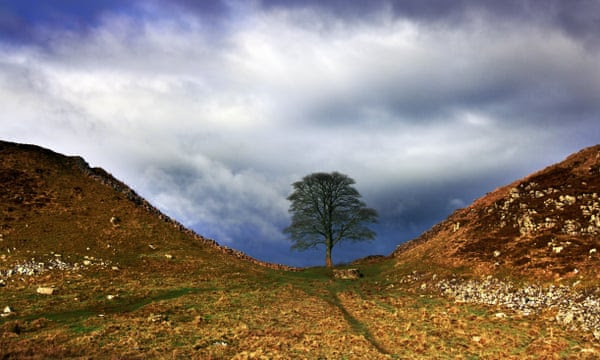 While there, I met Mike Pratt, director of local conservation organisation Northumberland Wildlife Trust. Like so many others, Pratt sees the crime as dire evidence that too many in today's society have lost all reverence for and understanding of the rest of the living world. "If a tree is sacred enough, it will never be chopped down," he said.
I also spoke to my friend Pete Leeson, who works for the Woodland Trust. While sharing Pratt's concern, Leeson homed in on the positive light revealed by the mass outpouring of feeling. "It's amazing and brilliant that so many people have responded with their emotional stories, and their recollections of that fantastic tree."
Leeson draws a direct link between that potent emotional response and the deeply rooted connection Indigenous peoples in the Amazon and beyond feel when their forests are assaulted. If he's right about this, civilians of the industrialised world have not entirely forgotten, or rejected, all our connections to the living matrix that supports all our lives. Not yet.
As William Blake observed in 1799 when he wrote "the tree which moves some to tears of joy is in the eyes of others only a green thing which stands in the way," our relationship with nature has always been complicated. What then are we to do? How can we channel the primal feelings that surfaced this week for the collective good?
Here's one immediate suggestion, for those in the UK, anyway. Whether you live in a city centre, a town or in the countryside, you are blessed to share your world with a huge number of veteran trees, many of them ancient, overlooked and genuinely irreplaceable.
Go out and hunt for one in your neighbourhood. Get to know it and then log it on the Woodland Trust's Ancient Tree Inventory. The Woodland Trust are pushing forward efforts to furnish trees and other treasured living features of our landscapes with the legal protections they deserve and need.
But, just as there is no immediate way to replace a 300-year-old tree, we must also acknowledge there are no quick fixes for humankind's increasingly strained and distorted relationship with the wider living world.
That said, the headline from the UK's recent State of Nature Report that has received the least attention might just be the most important one of all. Conservation and rewilding action works. When we give nature a chance, it comes roaring back.
Read more on the Sycamore Gap
You can't put a tree back up': debate rages about memorial for Sycamore Gap