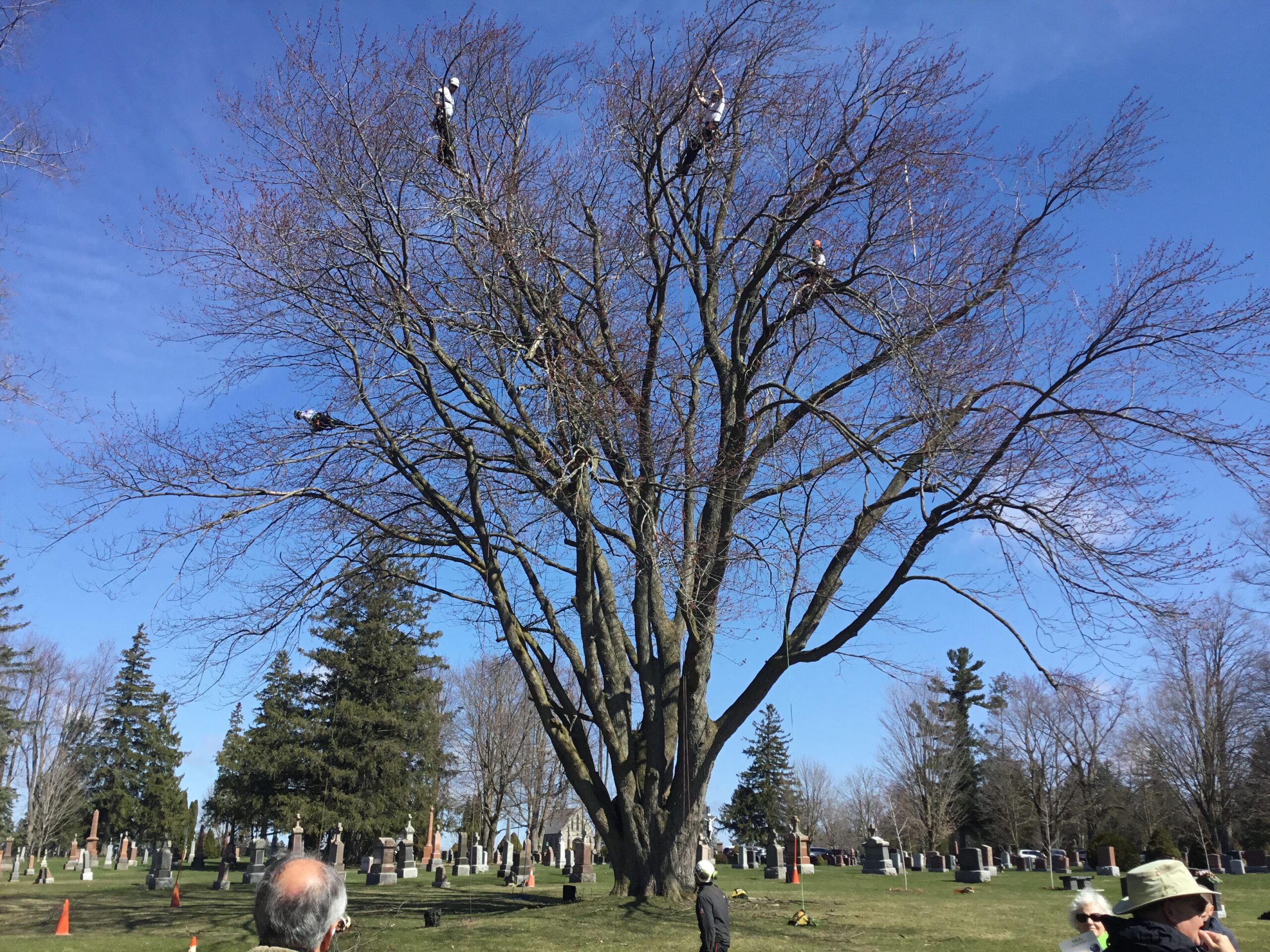 Tree Trust — a unique charity that sustains legacy trees — celebrated the preservation of one more beautiful tree in our community on Earth Day, April 22.
Thanks to generous support from Giddy Funeral Home, one glorious Silver Maple at the St. Mary Immaculate and St. Joseph Catholic Cemetery in Elora was given professional arboriculture care by Baum Tree Care and Full Circle Tree Care.
The occasion was marked with a special ceremony featuring Tree Trust sponsor Scott Giddy, Warden and Mayor Kelly Linton, and arborist Phil Guenter.  Young, enthusiastic singers from the EarlyOn program at the Community Resource Centre gave a cheery rendition of "If you're Happy and you Know it." 
The cost of treating the majestic Silver Maple was covered by Graham A. Giddy Funeral Homes. "I am delighted to announce that we have signed on as a Tree Trust sponsor," said Scott Giddy, Funeral Director. "We plan to contribute at least $2,500 for the next five years to the cause."
"Seeing the children sing reminds me why we need to be better stewards of the planet," says Wellington Centre Mayor Kelly Linton. "Tree Trust gives us a way to take action — both planting and caring for trees that are so vital to a healthy world."
Tree Trust Executive Director Toni Ellis pointed out the environmental importance of our biggest trees, which do the work of close to 300 saplings: "They store carbon, provide habitat, slow storm water and, "in a place like this, give shade, solace and respite. "  Toni also explained that the giant silver maple is estimated to be well over 100 years old and is storing close to 12 tonnes of carbon in its trunk, branches and roots.
The celebration concluded with arborists climbing sky high to remove deadwood and reduce the canopy, a fascinating aerial show of skill and artistry that many stayed to watch.
Tree enthusiast Rob Guthrie also led guests on a tree walk to inspect and learn about some of storied trees on the grounds.